As a female veteran, you've made extraordinary sacrifices on behalf of your country. In doing so, you've achieved an elite status that sets you apart from others–including other members of the military. Your service in hostile territory makes you eligible to join the nation's largest combat veterans' organization – the VFW. Now it's time to take advantage of all the benefits, services, and camaraderie that you're entitled to receive.
The Department created a Women Veterans Committee to help identify and respond to unique challenges and interests shared by female veterans. Many VFW Posts are proud to have a growing number of female veterans among their ranks, who are joining women who served in earlier wars to serve as VFW committee members, officers, and commanders at the Post, District, Department, and National VFW levels.
The VFW needs your support as our legislative team in Washington is calling on lawmakers and VA officials to meet the special needs of women veterans. Network with and stay connected to your peers through tools like Facebook, this website, and the Department's blast emails. Meet other women veterans and share your story with those who truly understand the distinct pride of deploying as part of our U.S. military.
PA VFW Annual Women Veterans Retreat
Each Spring, the Pennsylvania Department of VFW hosts a Women Veterans Retreat at little or no cost to participants thanks to donations from VFW Posts and Districts. Our latest retreat was held in March when 100 sisters-in-arms came together. The retreat was held in Harrisburg, PA, and women veterans came from all parts of the state.
The retreat was an opportunity for women veterans of all services and eras to gather in camaraderie to honor the dedication and sacrifices of all women who served and are serving today. The weekend focused on services and opportunities available to women veterans.
Registration for 2023 is now OPEN!
When: March 24-26, 2023
Where: Pittsburgh Mariott North, 100 Cranberry Woods Dr, Cranberry Twp, PA 16066
This photo shows some of the many women veterans who attended the 2022 retreat.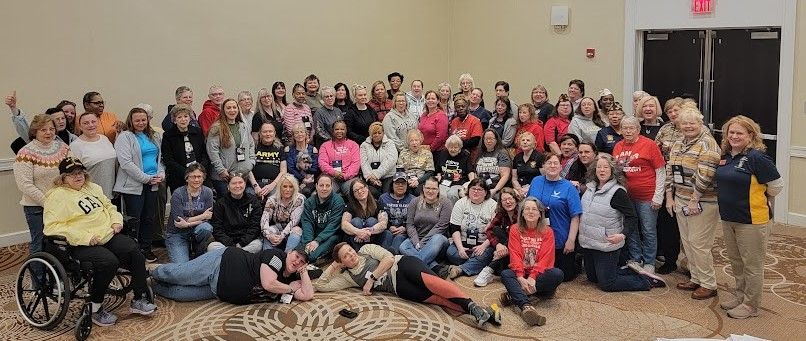 National VFW Women Veterans Support – See the information and resources available on the National VFW website, which has a section dedicated to women veterans and how the VFW works hard to represent their interests. This section includes more than a dozen short stories about how women veterans have served in the Armed Forces.
VA Resources for Women Veterans
Visit the VA's page specifically created for women veterans
http://www.va.gov/womenvet/
. To ask questions about VA benefits or to file a claim please see the "VA Claim Help" section on the home page or call State HQ at (717) 234-7927. Women veterans can also use
this portal
to locate information about services and programs that provide a broad range of support. To access the
VA's Women Veterans Call Center click here
. We have several female State Service Officers if you prefer to file your claim through a female veteran.